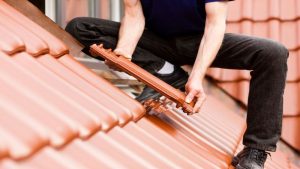 Getting a new roof is a major decision and a pretty costly one at that. Unfortunately, if you don't know what you're getting into, it can also be a little confusing. Some of the companies that will do a roof replacement don't inform homeowners of the different materials that they can have installed on their roofs, which doesn't allow the homeowners to make educated decisions about their own homes. Keep reading to find out about the different roofing materials that can be used so you can make a well-informed decision in the future.
Asphalt Shingles
Asphalt shingles are some of the most popular and the most cost-effective shingles that are available on the market. There are plenty of different colors and styles to choose from. Keep in mind that if you want to use asphalt shingles for your roof replacement in Green Valley, AZ, they're not necessarily the best for temperatures that fluctuate a lot. If the temperatures are extreme in fluctuation then the shingles could crack, causing the need for more repairs.
Tile Shingles
If you're interested in a roof replacement that has a lot of styles, tile shingles are the way to go. Tile shingles are aesthetically pleasing and can keep your roof a lot cooler, but they can cost quite a bit more money than other options.
Fiberglass Shingles
Fiberglass shingles are extremely beneficial in places that see a lot of rainfall because a waterproof layer is applied to them. Contact Durazo's Roofing, LLC immediately to talk to them about roof replacement options.
Needing a new roof is nothing to mess around with. Roof replacement is a huge concern that needs to be addressed immediately. Make sure that you give it the immediate attention it deserves or risks having to replace the things in your house as well as the roof.