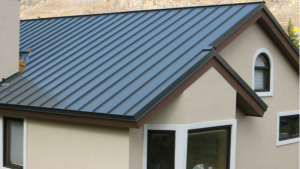 Whether you are considering a roof installation on a new home or structure or you have an existing roof that desperately needs a makeover, there are a myriad of roofing materials to choose from.
No matter what your preferred roofing style is, metal roofs have always been attractive for their minimal maintenance needs, their longevity, and their outstanding energy efficiency. Metal roofing in Rochester MN is available in galvanized steel, copper, aluminum, zinc, and tin. No matter what material you choose, make sure that your material is tested and labeled with FM Global, UL, or an equivalent rating. Visit website for reliable metal roofing in Rochester MN.
Advantages of Metal Roofs
Metal roofing has a number of known benefits, which include:
Longevity: Metal roofs can be crafted to last anywhere between 40 and 70 years.
Durability: Metal roofs can withstand winds up to 140 miles per hour, are impact-resistant, and will not crack or corrode.
Safety: Metal roofs will not ignite during a wildfire or lightning strike.
Environmental Efficiency: Metal roofs can be made out of recycled materials.
Energy Efficiency: Metal roofs reflect radiant solar heat, reducing cooling costs between 10% and 25%.
Disadvantages of Metal Roofs
Some of the disadvantages of metal roofing are:
Affordability: Costs are two and three times more than other available roofing materials.
Noisiness: Metal roofs can be extremely noisy during a rainstorm or hailstorm.
Contraction and Expansion: Metal roofs that are attached to large panels during installation can contract and expand. This can cause issues if they were not installed correctly.
Color Inconsistency: If an extension or repair is required years down the road, it can be difficult to match the existing color. This is, however, true with most roofing materials.
Performance: Water accumulation due to a poor-quality repair or installation can cause serious damage. Additionally, metals that are lower-grade will not provide as much in regards to durability and non-rust factors.
Check out Visit the website for more information on how metal roofing can benefit you.