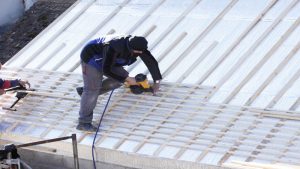 You may have never heard of rubber roofing but in this article we will discuss rubber roofing and how it compares to other roofing materials. Hopefully after reading this article you have enough knowledge of rubber roofing and how it may be a better choice for your roof than other materials. At least you will know that Rubber Roof System St. Augustine FL exists and that it is an option you have to choose from.
Rubber roofing is a great idea if you have a flat roof or a low slope roof. Many basement houses have flat roofs that would be perfect to use rubber roofing on. Many places where you will find the use of rubber roofing are garages, sheds, balconies, gutters, and verandas. Rubber roofing can be used most anywhere.
Typical roofing materials are more expensive than rubber roofing as rubber roofing is one of the cheapest options you will find out there. If cost is a problem for you and you cannot afford to have a roof made out of typical roofing materials, you may want to consider using rubber roofing this time.
The two types of rubber roofing materials are rubber roof shingles and whole roofing. Rubber roof shingles look most like typical roofing shingles and can be placed fairly quickly. Rubber roofing materials are made of synthetic or natural rubber and the installation of this type of material is rather easy. Since these type of roofing materials are made of rubber it is very easy to cut and shape them into any shape you would like them to be. There is are no special cutting materials needed as this type of rubber material can be cut with a typical knife.
Rubber roofing materials can be purchased in different colors, so your options are not limited if you choose to use this type of material. Rubber roofing materials typically come in large seamless pieces and therefore are very easy to install and quite a bit faster than the typical roofing system. Due to the seamless system that rubber roofing entail, its waterproofing abilities are much higher than other roofing materials. Rubber roofing is typically energy-efficient and requires quite a bit less maintenance than other roofing materials. Rubber roofing systems can last anywhere from 25 to 50 years. The typical roof system generally will last 25 to 30 years, so as you can see, rubber roofing has the ability to outlast all other materials. I believe rubber roofing is a great option over all other roofing materials.
If you are in the market for a new roof you may want to consider Rubber Roof System St. Augustine FL or elsewhere.
Get more information on the many kinds of Rubber Roof System St. Augustine FL by contacting the professional team at Neal Roofing Strickland Inc. Check them out online! You can also visit them on Facebook for more information.