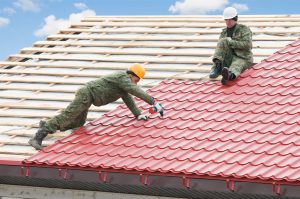 We all know Roofing Contractors are the ones to contact if you are having issues with your roof, but did you know they can perform a variety of other services outside of just replacing old shingles. The following are three services roofing contractors in Franklin can assist you with in improving the outside of your home.
Maybe you are considering installing siding to the exterior of your home but are unsure of your options. An experienced roofing contractor can assist you in determining what will be the best for you and your needs. Installing siding comes with several benefits such as cost efficiency and protection from all types of weather circumstances and enhancing curb appeal. Properly installed siding will keep you cooler in the summer months and warmer in the winter, reducing the strain on your heating and cooling systems and your wallet.
Keeping your gutters free of debris can be a nuisance and very time consuming. Maintaining your gutters is extremely important for runoff and draining reasons. As a home owner you know it's a task that eventually has to be done. If you are unable to carry out the chore, hiring professional roofing contractors in Franklin area can ensure your gutters will be well maintained. Properly kept gutters can extend their life expectancy which is normally twenty years. A roofing contractor will also be able to repair issues that may arise or install new gutters when necessary.
If you are constructing a new home and undecided in whether to build a pitched roof or a flat roof, an experienced roofer can help you determine which will be best suited for your situation. Pitched roofs are the most common option in home constructions as they are the most durable for all weather conditions and easier to maintain. Yet they do not offer much in versatility when considering design choices. Depending on your location, a flat roof may be an option. Flat roofs work well in warmer climate conditions and offer a variety of architectural styles. Although flat roofs need to be inspected more often they are easier to access than a pitched roof and cheaper to install.
No matter what you're outdoor home improvements require, consider contacting a roofing contractor before you call several contractors. One call could be the solution for all of your repair and maintenance needs. This can save certainly save you time. It may save you money, as well.
Follow us on Twitter and get latest updates.