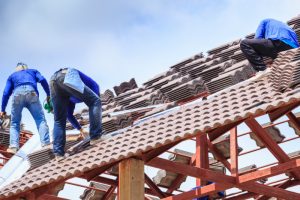 Whether a person owns an older house or has purchased a new one, they will eventually experience a problem with their roof. How long the roof will last depends on the age of the roof and the quality of work that was employed when the roof was installed. When a noticeable problem does occur, it may be tempting to do the job yourself or hire an untrained professional to complete the job at a cheap price. A homeowner could be taking a huge risk if they select to not hire a qualified contractor for roof repair in St. Augustine. Even though a certified roofer may cost a bit more, they offer a variety of advantages a layman cannot.
Benefits a Professional Roofer Offers
They have an extensive knowledge of the various roofing problems and how to fix them.
A contractor will have access to quality roofing material that the consumers cannot obtain at a reasonable price.
Their expertise will minimize the risk of a mistake being made that can jeopardize the integrity of the roof.
Problems with a roof can be unpredictable and difficult to track down such as a leak. Water travels in an erratic pattern making it hard to find the source of the leak. A contractor will know how to find the main problem that needs to be repaired.
A company that offers roof repair in St. Augustine will have the latest tools and techniques used to fix a rooftop.
Hire a Contractor that is Devoted to Providing Their Clients Exceptional Service
R&K Roofing understands the importance of having a durable and dependable roof on a home. They strive to provide their clients with top-quality workmanship at a fair price. Whether your home requires a minor repair or a full roof replacement, they will find an affordable solution that will meet your roofing needs.