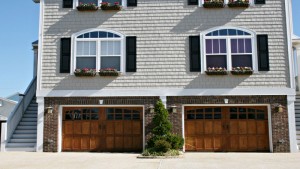 If and when your old garage door needs to be replaced remember there are two issues to consider: the door and the installation. As the homeowner the design and type of the door is really your choice. There are those that simply see the garage door as a barrier against unauthorized entry. Additionally, there are those that see their garage door as an extension of the architectural ambiance of their home.
Garage doors, even for a single car garage are large and unwieldy, they are heavy and difficult to lift and maneuver. If your garage door is not installed properly there is a real risk that the door will fail and crash down on your car or worse, you or a member of your family. A typical garage door in Skokie requires springs to help the homeowner to open and close them. Garage Doors have a  great deal of power, enough to severely injure anyone in the immediate vicinity. When installing or maintaining these springs there is a need for special tools and training.
If you are looking for something to do around your home, consider painting your new garage door but don't think that you can install it. If you want the job done right so the door works smoothly and is safe then you must rely on a professional for garage door installation in Skokie.
When you are looking for a professional garage door installation crew you can usually find the best team through introductions given to you by the retailer that you purchased the door from. In many cases the same company supplied the door will have its own crew to undertake the installation. Like most things, there are a few questions that you should ask a candidate:
Length of time in business: Find out how long the company has been serving the community. If it is a reasonably new company find out if the proprietors have past experience in installing garage doors.
Can the company provide recommendations? This is actually quite important. Ask the prospective installer for the names and contact information of a few of their past clients and don't hesitate to contact them. Nothing works better in a local business than to be highly thought of and respected.
Insurance: An accident can happen, even to the most experienced garage door installer. Make sure the company that you pick for your garage door installation in Skokie carries both workers comp and liability insurance; otherwise you may be stuck with the bill if something does go wrong.
By taking a little time before deciding on who will install your garage door you can ensure that the installation will be done safely and done right the first time.
When you entrust Roberts Garage Door Professionals for garage door installation in Skokie you can be assured of quality craftsmanship, fast service and exceptional prices. Call today to schedule your new garage door installation.