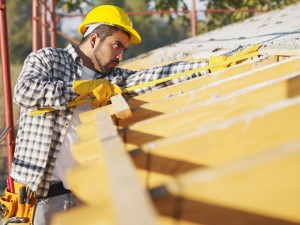 If a commercial property owner is searching for a cost-effective and durable single-ply roofing system, they should consider TPO (Thermoplastic Polyolefin). When TPO material is used for commercial roofing in Ann Arbor, MI, it provides all the benefits offered by EPDM and PVC roofs, but at a much more affordable price. If a property owner is unsure what type of roof they should install, they should consider the performance and installation advantages that are offered by TPO.
TPO roofing systems are made of rubber, ethylene, propylene, and fillers. The fillers work to reinforce the TPO membrane's strength. This chemical makeup results in this being a popular option for commercial roofing in Ann Arbor, MI. Some of the other benefits of TPO can be found here.
Durability and Weather Resistance
Because TPO is made with a rubber compound that has been reinforced with polyester fabric, it can ensure a maximum level of protection against tears and punctures. The property owner won't have to worry about the health of their roof during adverse weather, either. The material can handle thermal contraction and expansion of the building, and when properly maintained, the surface may last for 30 years or more.
Superior Energy Efficiency
Another benefit offered by TPO roofing is that it reflects the sun's heat and UV rays, which makes it a smart, cool roof option. This will help to significantly reduce the building's cooling costs. It will also help to improve the interior temperature of the building when it gets hot outside.
TPO's Easy to Install
Unlike a number of other commercial roofing material options, TPO is lightweight and offered in wide sheets. This means that it doesn't require much effort or time to install it. When the time needed to install this roofing is reduced, so is the cost of the installation. This can cut the cost of the entire roof for the property owner.
When it comes to a commercial property's roof, a property owner can't take chances. They need to choose the right material to ensure it remains in good, protective condition. To learn more about having a new commercial roof installed, visit the website.