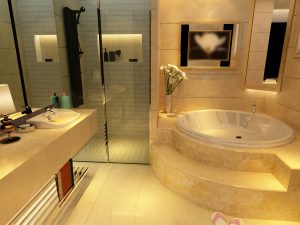 If you are thinking of remodeling your bathroom, now is the time to do so. Not only can you install tech-savvy products, such as faucets with motion sensors, but you can also include rainfall shower heads in your bathroom's design. The emphasis now is to optimize a bathroom's space. Therefore, you will not be disappointed by the results whether you are renovating a small or larger bathroom space.
Adding Smart Storage Spaces
When it comes to bathroom remodeling in Northampton, MA, creating storage will never go out of style. Today, the trend is toward creating smart storage spaces, so bathrooms are both cleaner-looking and functional to use. After all, you do not want to feature a bath that is cluttered or looks disorganized. That is how smart storage comes into play.
Open Shelving
According to professionals who offer bathroom remodeling services, homeowners should take advantage of vertical spaces and therefore position cabinets up instead of merely along a wall's space. If your bathroom does not support built-in cabinetry, you can always include a freestanding option. You may also think about placing shelving over the vanity or hooks for towels or robes behind the bathroom door. The addition of open shelving is still one trend that proves to be quite practical when added to a bathroom's decor.
Add Retro White Tile
Bathroom remodeling also includes the addition of tile. Present and future trends show that bathroom designers and homeowners are choosing white subway tile. This type of tile is ideal as it can be matched with just about any look. For instance, you can use it as a base look for an industrial-style bathroom or add it to the timelessness of a classic bathroom design.
How to Obtain More Information
Learn more about your options for upgrading your bathroom today. Contact us for further details online or give us a call about the featured offerings.