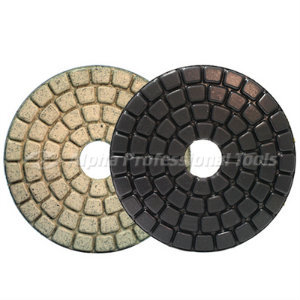 For any stone care company working on terrazzo, marble, travertine, concrete or other types of common or more unique polished floors, some brands of pads and supplies are the perfect match.
This is certainly the case with VorteX diamond pads which have been an industry leader for many years. These pads, which are chemical free, can provide a beautiful shine regardless of the current condition of the polished flooring.
Versatility
In fact, the company actually provides three different types of pads, each with their own specific recommended use. These pads are often used in sequence, but they can also be used on their own depending on the specific needs. They are available in a range of different sizes from 5 to 7 inch as well as 17 inches.
The VorteX diamond pads we sell can be used with any other cleaning and maintenance equipment, and this makes them a great option for any natural stone floor cleaning service. There is no need to stick to only one particular brand of equipment, and they can be used on everything from scrubbers to planetary floor machines for small or large spaces.
The Numbers
These diamond pads are simply known by their numbers, from 1 to 3. Number 3 is the daily use pad that can be used as a general cleaning pad as well as providing a light polish. For well-maintained floors that are serviced daily or weekly, this is the perfect option.
The Number 1 pad is the most aggressive, and can be used even on heavily scuffed and heavy traffic floors and areas. There is a high concentration of diamonds within the pad material, providing better polishing with fewer passes. After completing four to six passes, switch to the Number 2 and then the Number 1 pad for a beautiful shine.
The Number 2 pad is in the middle. It is a second step after the Number 1 pad, but it can also be used just on the heavy traffic areas of a well-maintained floor that is not in need of a full restoration. This is a great option to combine with the Number 3 pad, which if used weekly will complete a deeper polishing in very busy areas.
These VorteX diamond pads are a must for any floor restoration and maintenance service. They are versatile, dependable and will bring out the shine, whether using wet or dry techniques.