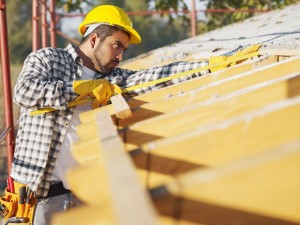 Repairing or replacing your roof can be a costly project and you may be tempted to try and save some money by utilizing DIY methods. However, this can be more dangerous than any money saved is worth and you actually stand to save more money by hiring professional roofing contractors. These workers come to your home and give you an estimate for the work without any obligation or fees and their estimate is the total you pay with no hidden fees waiting to surprise you after the work is done. That said, there are more than financial benefits of hiring a professional and you should consider the other factors before making your decision.
Safety
Climbing a ladder onto your roof is a tricky piece of business and you must have a clear understanding of how to do it right to remain safe. Professional roofing contractors in Albany, OR never come alone and they utilize a system of support and safety equipment to keep everyone safe during the project. At best, you may find yourself stranded on your roof while you wait for someone to put your fallen ladder back up. At worst, you may fall off the roof or the ladder and seriously injure yourself. Albany roofing contractors are thus the best way to keep yourself and your property safe from harm.
Money Saved
Your roof is not something you can just fix with a few nails and some additional shingles you picked up at the store. You need expert equipment, the right attire, training, and first-hand experience to get the job done right. If you attempt to do the job without the help of roofing contractors, you may make a serious mistake that could cause thousands in property damage later on. Home insurance may also pay for the repairs or replacement, depending on the cause of the damage. Simply contact your provider to determine whether your case is valid under their policy to get started.